This season we were stoked to add Rab to our brand list at the Palace. Rab Carrington founded the brand in 1980s Sheffield – which is a place close to our hearts. My partner and Palace co-founder, Ian, was born in Sheffield, we both went to university there, and I'm a Yorkshire lass too.
Rab Carrington originally hailed from Glasgow, but his growing climbing passion eventually inspired a move to the relatively drier climes of Sheffield, where he joined in the healthy mountaineering scene based there at the time. He started off sewing sleeping bags in his attic, and then opened a factory in Sheffield.

Mark Wilson, one of Rab's first employee's cutting fabric in 1980s Sheffield.
The Microlight Alpine Jacket is one of Rab's signature pieces, so naturally we had to have it in our collection.  It seemed fitting to take it up to Rab Carrington's Scottish roots to test it out  – on a hillwalking trip to Corrour in the Highlands.

The Microlight is not only a great technical jacket, we think it looks pretty damn sweet too.
We were booked in the seats on the sleeper train (no comfy cabin this time), and the Microlight immediately came into its own – as a handy travel pillow! It packs into its own stuff sack  – which makes it the perfect shape on which to rest a weary head.
Once in Corrour, the Microlight formed an essential part of Ian's Munro bagging kit. Setting off for the summits, it was wet but fairly mild, so he started out just wearing a shell and Rab Merino Baselayer. The Microlight stayed packed in its stuff sack, and took up barely any space in his daypack. However as we neared the peaks and were exposed to the biting Highland wind, out came the Microlight.  We like to hang out on the mountain tops – picnicking, taking photos and generally soaking up the mind-blowing views. The Microlight made the perfect insulating mid-layer, and he felt totally snug even when stationary for a while.

Soaking up the mind-blowing views
Rab are famous for their quality down, it's in their heritage – hence the feathers in their logo.  The Microlight is filled with Rab's special Hydrophobic Goose Down. Hydrophobic down dries faster, absorbs less water and retain its 'loft' – the fluffiness which is what makes it warm and cosy!

Rab Carrington and the early Rab logo with iconic feather
The outer fabric is Pertex, which is both breathable and windproof – a feature Ian was certainly glad of on this trip. The Microlight is weather-resistant but not waterproof, so as it was pouring down on our mountain days, he wore it under his waterproof shell.
On the last day we did some lower ground exploring, and it was dryer with just a few light showers. It felt colder without the hilly exertion, and the Microlight over the Merino base layer was a winning combo. He didn't wear a shell and the Microlight stood up to the occasional light rain. Even the hood is down-filled which really does make it feel like you're under your duvet, whilst enjoying the great outdoors!

On the bridge behind Corrour Station – made famous in Trainspotting.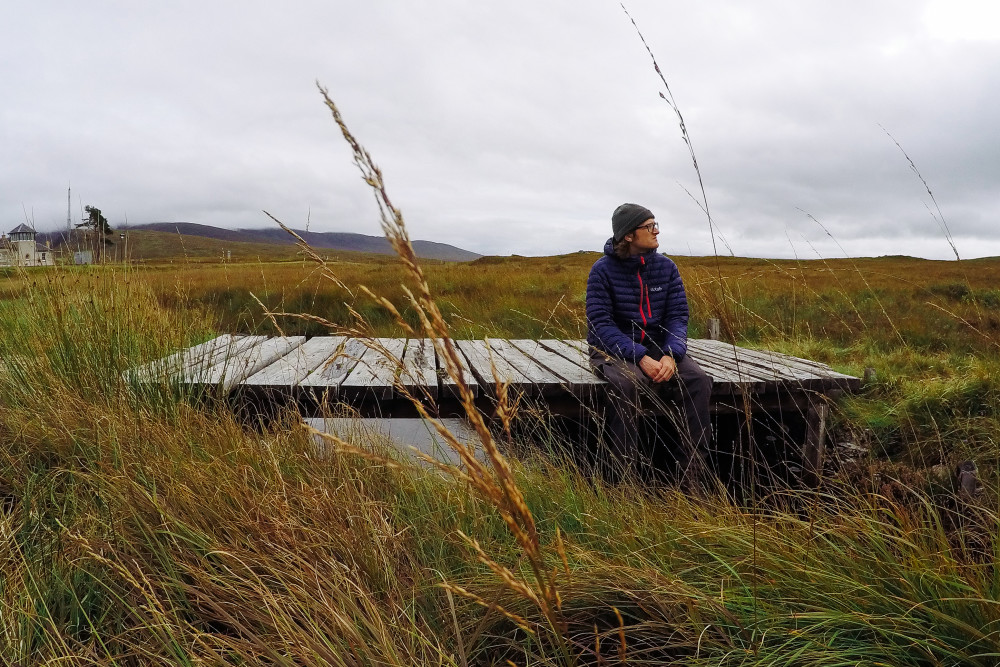 Walking along the train tracks at Corrour Summit.
Whether you're braving the wilds of Scotland or Shoreditch this winter, Rab's Microlight Alpine Jacket is an essential piece of kit!
Ethics
Rab's Hydrophobic Down is Fluorocarbon free and developed in conjunction with Nikwax. Fluorocarbons are often used to make garments water repellent but they are toxic to humans and the environment. Nikwax and Rab have developed a safe alternative.
All Rab's down is ethically sourced and traceable under the European Down and Feather Association Code of Conduct, this stipulates that no down harvested in a way that inflicts pain upon animals may be used.